As Brazil's deforestation begins to climb again, one man has spent over 40 years planting a forest of his own
When Antonio Vicente bought a patch of land in São Paulo state and said he wanted to use it to plant a forest, people called him crazy. It was 1973 and forests were seen by many as an obstacle to progress and profit.
Brazil's then military government encouraged wealthy landowners to expand by offering them generously subsidised credit to invest in modern farming techniques, a move the ruling generals hoped would boost national agriculture.
But water, or an impending lack of it, was Vicente's concern as he worriedly watched the expansion of cattle grazing and industry, the destruction of local forests, and the growth of the population and the rapid urbanisation of the state.
One of 14 children, Vicente grew up on a farm where his father worked. He'd watched him cut down the trees at the owners' orders, for use in charcoal production and to clear more land for grazing cattle. Eventually the farm's water springs dried up and never returned.
Maintaining forests are essential for water supplies because trees absorb and retain water in their roots and help to prevent soil erosion. So with some donkeys and a small team, he worked on his little patch – 31 hectares (77 acres) of land that had been razed for grazing cattle – and set about regenerating.
"The area was totally stripped," he says, demonstrating by pointing to a painting of the treeless land in 1976. "The water supplies had nearly dried up."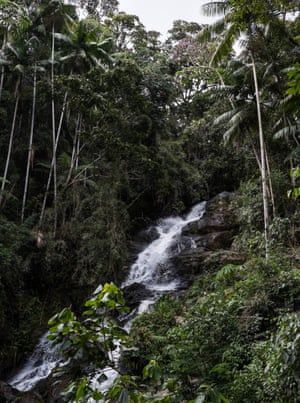 His neighbours, who were cattle and dairy farmers, used to tell him: "You are dumb. Planting trees is a waste of land. You won't have income. If it's full of trees, you won't have room for cows or crops." But what started off as a weekend gig has now become a full-time way of life. More than 40 years later, Vicente – now 84 – estimates he has replanted 50,000 trees on his 31 hectare Serra da Mantiqueira mountain range property.
"If you ask me who my family are, I would say all this right here, each one of these that I planted from a seed," he says.
But Vicente is working against the national trend. After several years of successive falls in deforestation in Brazil's Amazon – the world's largest tropical forest – numbers are beginning to rise again.
Nearly 8,000 hectares (19,770 acres) of rainforest were destroyed between August 2015 and July 2016, equivalent to an area 135 times the size of Manhattan, a 29% from the year before and the highest increase since 2008, according to Brazil's National Institute for Space Research (INPE), and while deforestation levels are still nowhere near their peak in 2004 when more than 27,000 hectares (66,720 acres) were removed, the upward trend is still worrying.
There are a number of reasons behind the rise, not least the introduction of the controversial 2012 Forest Code which gave amnesty to property owners who committed illegal deforestation.
"This sends a very wrong signal, of impunity. People think: "If I get one amnesty, who knows? In another few years from now I might get another," says Cristiane Mazzetti, Greenpeace Amazon campaigner.
She also points out that: "The last government headed by Dilma Rousseff didn't issue hardly any conservation areas of demarcated indigenous territory. These are good instruments for fighting deforestation."
In her last days in office, Rousseff issued a few conservation areas, but alarmingly, politicians from Brazil's Amazon caucus have expressed interest in reducing these by 35%, a move experts say would open up the reserves to deforestation, land grabbing and illegal gold mining.
And Brazil, reeling from economic and political crisis over the last few years, has had less capacity for monitoring due to budget constraints. Attention is being directed to the drama in Brasília where an unprecedented corruption investigation threatens the political establishment.
Vicente's own home state, São Paulo, has seen some of Brazil's worst deforestation. The richest state in Brazil, São Paulo is responsible for a third of the country's GDP and is the biggest economy in South America, with industry and agriculture being two of the biggest contributors. For many decades, as the region grew in economic importance, so did the destruction of the local environment.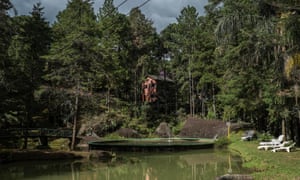 During the last 30 years, while Vicente was planting his forest, 183,000 hectares (452,200 acres) of Atlantic forest in São Paulo state were cut down to make way for farming and expanding cities. According to a study by SOS Atlantic Forest Foundation and INPE, Atlantic forest originally covered 69% of São Paulo state, but only 14% of this total remains today. The deforestation may have been an aggravating factor in a two-year water crisis in São Paulo state that ended in 2016, alongside water-intensive industrial and agricultural production in the state and poor management of the state water company.
Today, local government initiatives in the region give a small monthly payment to farmers who protect the water supplies by planting and maintaining trees. São Paulo is currently managing to achieve almost zero deforestation. (Although that is, at least partly, because there is so little forest left to be cut down.)
Nationally, there are signs of a fightback. In 2015, Brazil committed to replanting 12m hectares (29.6m acres) of deforested land by 2030, as part of the Bonn challenge, a target that was derided by many as unrealistic.
Much of this deforested land lies on private property and so engaging property owners like Vicente is fundamental to meeting the challenge.
The Alliance for the Restoration of the Amazon, a collection of government bodies, NGOs, private sector initiatives and universities bodies, was launched in January to meet this monumental challenge and is undertaking studies in the field.
"If everyone followed Vicente's example, our task would be a lot easier," says Rodrigo Medeiros, vice president of Conservation International Brazil, one of the organisations in the coalition. "The scale of restoration that we are dealing with here is unprecedented in the history of Brazil. Without forests, water, food and a pleasant climate are basically not possible."
However, Mazzetti from Greenpeace points out that from 1985 to 2015, while 219,735 hectares (542,977 acres) of Atlantic forest were regenerated across Brazil, much more, 1,887,596 hectares (4,664,351 acres) were cut down during the same period.
"Regeneration is a slow process, we need zero deforestation now," she says.
Others have joined Vicente in his work. Brazil's most famous reforestation advocate lives nearby – celebrity photographer and activist Sebastião Salgado, who with his wife Lélia, reforested nearly 7,000 hectares of Atlantic forest in the late 1990s on his childhood home.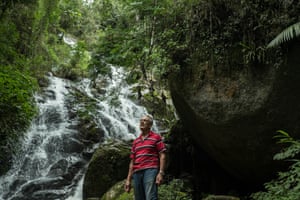 On Vicente's own patch, there are now eight waterfalls. He takes me out on to his land, and we hike down one of the mountain trails beside a cascading waterfall, covered by a lush green Atlantic forest canopy, stopping to take gulps of fresh water with our hands.
The trail is absolutely spotless, with no litter or cigarette butts, with a rich earthy smell and views in the distance of the Mantiqueira mountain range's rolling green valleys, the only noise the trickle of the waterfall.
Vicente has seen first-hand the devastating effects of mass deforestation. He travelled at one point to Rondonia, now one of Brazil's most deforested Amazon states, in 1986 during a drive by the Brazilian government to settle the region which proved disastrous as following mass deforestation, the land yielded poor results.
"The government were giving the land away for cheap, but the land didn't serve for anything," he says. "People cut down the trees but after 3 to 4 years, the soil turned into sand and nothing grows."
Speaking of his own project in the Mantiqueira mountain range: "I didn't do it for money, I did it because when I die, what's here will remain for everyone." He adds: "People don't call me crazy any more."
SOURCE:
https://www.theguardian.com/global-development-professionals-network/2017/mar/21/the-man-who-planted-a-tree-and-grew-a-whole-family-of-forests