Silver morning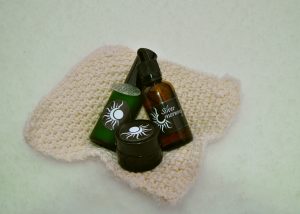 Buy me!
I have been using the facial serum since 2007! My friends where using expensive -lots of promising- cremes and serums, but secretly they were  using  this one I had in the bathroom =)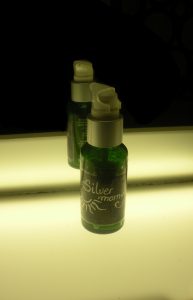 Its ingredient list is quite complicated and you need to buy a couple of expensive essential oils, but it pays back because you will be able to make serums for the next 5 years!
RECIPE: For a 170 gr dose I use:
Coloidal silver gel 45 gr
Almond oil  15 gr
Rosehip oil 10 gr
Hazelnut oil 5 gr
Argan oil 10 gr
Vitamin E oil or wheatgerm oil 5 gr
Frankinsence oil 25 drops
Sitron essensiell olje 25 drops
Lavelndel essential oil 20 drops
About the gel:
Because i make everything home, I use a cup of Ag+ and a pinch of xanthan gum to make it thick. You will probably find otherthickening agents at your local pharmacy or even food store (Major Vegetable Gums er  Xanthan Gum      Agar Agar, Cellulose Gum, Guar Gum, Locust Bean Gum and  Pectin. The Ag+ solution is when you wanna keep the serum out of the fridge and the microorganisms away from the serum.  You can also use plain water and one of the thickening agents, but then you must consider germaben or some other preservative (those are not healthy…) or keep the serum in the  fridge and not for very very long time.
So: you mix everything and you just use a electric coffee mixer/foamer to blend it. The thickening agent acts somehow instead of an emulator to keep oils and waters together. You may need to shake it every now and then =)
Many of my coquette friends have very pleasurable experiences with Silver Morning!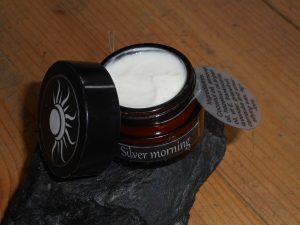 The next generation became the Silver morning cream. Smooth, rich and nourishing, it just cant help to make your face so happy!  This one I have been using since 2015. Its a light cream, a bit heavier than the serum, the wax in the cream leaves a thin protective film on your skin, you are ready for a hectic day! In compare to the serum the cream has more heavy oils like coconut and shea butter,  and carnauba wax.
The very last Silver morning invention is very new. Not longer than a year ago, in  2017, when I was playing with combination of essential oils and carrier oils. This one is light, quickly absorbed, but with the same deep nourishing and regenerative properties as the other two. If you have a normal skin I suggest  it as an evening habit, if your skin is naturally dry or after a shower or a peeping, I suggest it at anytime.